General Details
Ceiling Mounted Cassette
Temperature & pressure control of VRF technology ensures faster, more accurate and stable operation of compressor.
LG's Single and Multi Split models, the only solutions in the same product category to feature innovative Temperature & Pressure Control Sensor equipped with advanced VRF pressure control technology.
Generally single and multi split systems estimate pressure to operate compressor via a single sensor, which measures refrigerant, internal and external temperature. However, LG's latest Single and Multi Split series add the Temperature & Pressure Control Sensor, which directly analyzes and controls refrigerant pressure and temperature, boosting compressor performance in terms of accuracy and efficiency. Precisely, the Temperature & Pressure Control Sensor leads to quicker, more effective heating and cooling. It also helps to extend the compressor's operational lifespan and ensure stable performance in all kinds of weather conditions.
Eurovent Certified
The Certification Mark guarantees that the products have been submitted to independant checking and that they have been accurately rated. This mark guarantees specifiers, installers and end users that products marketed by a participant have been accurately rated.
Compact Size
The indoor unit with slim and compact dimensions has reduced the restriction which enables successful installation in various spaces.

High Ceiling Mode
High ceiling mode provides powerful cooling and heating up to 4.2m in height, from ceiling to floor.
Wide Jet Air Flow
Improved vanes reduce the curved area and provide even distribution.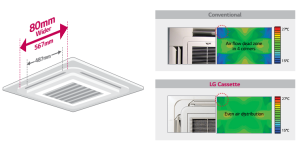 Independent Vane Operation
The independent vane operation feature uses separate motors, making it possible to control all four vanes independently.

Convenient Panel Installation
The detachable corner design makes it easy to adjust the hanger during installation and to check for leakages in the drain connection pipe.

Auto Elevation Grille
Easy filter cleaning with elevation grill.
Quiet Operation with 3D Fan
New technology of 3D fan is applied to H-Inverter cassettes 10~14kW. It increases air flow but reduces noise.

Prevent Ceiling Pollution
Coanda design of air outlet can prevent contamination of ceiling.

Techical Info
Mudel
Siseosa
CT09NR2
CT12NR2
CT18NQ2
Välisosa
UU09WULD
UU12WULD
UU18WUE2
Jahutusvõimsus
Min./Nom./Max.
kW
1/2,5/2,8
1,4/3,4/3,7
2/4,7/5,5
Küttevõimsus
Min./Nom./Max.
kW
1,2/3/3,3
1,6/4/4,4
2,2/5,5/6,1
Aastane energiakulu (jahutus)
kWh
172
213
343
SEER (jahutus)
W/W
5,11
5,61
4,81
Aastane energiakulu (küte)
kWh
1032
1077
1474
SCOP (küte)
W/W
3,81
3,91
3,81
Energia klass
Jahutus/Küte
A/A
A+/A
B/A
Müratase
Siseosa
dB(A)
36/33/30
38/35/32
41/39/36
Välisosa
dB(A)
47
48
Mõõdud (WxHxD)
Siseosa
mm
570x214x570
570x256x570
Paneel
mm
700x22x700
Välisosa
mm
770x540x245
870x655x320
Kaal (netto)
Siseosa
kg
14
15,5
Välisosa
kg
32
46
Torustiku mõõt
Vedel + Gaas
toll
1/4″ – 3/8″
1/4″ – 1/2″
Freoon
R410A
Maksimaalne trassi pikkus
m
15
40
Maksimaalne kõrguste vahe
m
10
30
Lubatud tööpiirid
Küte/Jahutus
°C
-18~18/-10~43
-18~18/-15~43
Elektriandmed
Pinge
V/Ph/Hz
220-240/1/50
Kaitsme suurus
A
16
20
Mudel
Siseosa
CT24NP2
UT30NP2
Välisosa
UU24WUEW
UU30WU42
Jahutusvõimsus
Min./Nom./Max.
kW
2,8/7,1/7,8
3,2/8/8,8
Küttevõimsus
Min./Nom./Max.
kW
3,2/8/8,8
3,6/9/9,9
Aastane energiakulu (jahutus)
kWh
407
459
SEER (jahutus)
W/W
6,11
6,11
Aastane energiakulu (küte)
kWh
2395
2505
SCOP (küte)
W/W
3,81
Energia klass
Jahutus/Küte
A++/A
Müratase
Siseosa
dB(A)
38/36/34
40/37/35
Välisosa
dB(A)
48
Mõõdud (WxHxD)
Siseosa
mm
840x204x840
Paneel
mm
950x25x950
Välisosa
mm
950x834x330
Kaal (netto)
Siseosa
kg
20,5
Välisosa
kg
60
Torustiku mõõt
Vedel + Gaas
toll
3/8″ – 5/8″
Freoon
R410A
Maksimaalne trassi pikkus
m
50
Maksimaalne kõrguste vahe
m
30
Lubatud tööpiirid
Küte/Jahutus
°C
-18~18/-15~43
Elektriandmed
Pinge
V/Ph/Hz
220-240/1/50
Kaitsme suurus
A
30
Mudel
Siseosa
UT36NN2
UT42NM2
UT48NM2
Välisosa
UU37WUO2
UU43WU32
UU49WU32
Jahutusvõimsus
Min./Nom./Max.
kW
4/10/11
5/12,5/13,8
5,5/13,9/15,7
Küttevõimsus
Min./Nom./Max.
kW
3,3/11/12,1
5/14/15,4
6,4/15,3/17,6
Aastane energiakulu (jahutus)
kWh
648
–
SEER (jahutus)
W/W
5,41
3,21 (EER)
3,01 (EER)
Aastane energiakulu (küte)
kWh
2800
–
SCOP (küte)
W/W
3,81
3,61 (COP)
3,41 (COP)
Energia klass
Jahutus/Küte
A/A
–
Müratase
Siseosa
dB(A)
43/40/37
46/44/43
49/47/45
Välisosa
dB(A)
53
52
Mõõdud (WxHxD)
Siseosa
mm
840x246x840
840x288x840
Paneel
mm
950x25x950
Välisosa
mm
950x1170x330
950x1380x330
Kaal (netto)
Siseosa
kg
22,3
24,6
Välisosa
kg
85
96
Torustiku mõõt
Vedel + Gaas
toll
3/8″ – 5/8″
Freoon
R410A
Maksimaalne trassi pikkus
m
50
75
Maksimaalne kõrguste vahe
m
30
Lubatud tööpiirid
Küte/Jahutus
°C
-18~18/-15~43
Elektriandmed
Pinge
V/Ph/Hz
380-415/3/50
Kaitsme suurus
A
20
Mudel
Siseosa
UT60NM2
Välisosa
UU61WU32
Jahutusvõimsus
Min./Nom./Max.
kW
5,9/14,6/16,3
Küttevõimsus
Min./Nom./Max.
kW
6,8/16,9/18,7
Aastane energiakulu (jahutus)
kWh
–
SEER (jahutus)
W/W
2,7 (EER)
Aastane energiakulu (küte)
kWh
–
SCOP (küte)
W/W
3,07 (COP)
Energia klass
Jahutus/Küte
–
Müratase
Siseosa
dB(A)
49/47/45
Välisosa
dB(A)
52
Mõõdud (WxHxD)
Siseosa
mm
840x288x840
Paneel
mm
950x25x950
Välisosa
mm
950x1380x330
Kaal (netto)
Siseosa
kg
24,6
Välisosa
kg
96
Torustiku mõõt
Vedel + Gaas
toll
3/8″ – 5/8″
Freoon
R410A
Maksimaalne trassi pikkus
m
75
Maksimaalne kõrguste vahe
m
30
Lubatud tööpiirid
Küte/Jahutus
°C
-18~18/-15~43
Elektriandmed
Pinge
V/Ph/Hz
380-415/3/50
Kaitsme suurus
A
20
Order Enquiry
Contact form description text