Comfortable for rooms with low ceilings.
General Details
CONSOLE
Temperature & pressure control of VRF technology ensures faster, more accurate and stable operation of compressor.
LG's Single and Multi Split models, the only solutions in the same product category to feature innovative Temperature & Pressure Control Sensor equipped with advanced VRF pressure control technology.
Generally single and multi split systems estimate pressure to operate compressor via a single sensor, which measures refrigerant, internal and external temperature. However, LG's latest Single and Multi Split series add the Temperature & Pressure Control Sensor, which directly analyzes and controls refrigerant pressure and temperature, boosting compressor performance in terms of accuracy and efficiency. Precisely, the Temperature & Pressure Control Sensor leads to quicker, more effective heating and cooling. It also helps to extend the compressor's operational lifespan and ensure stable performance in all kinds of weather conditions.
Eurovent Certified
The Certification Mark guarantees that the products have been submitted to independant checking and that they have been accurately rated. This mark guarantees specifiers, installers and end users that products marketed by a participant have been accurately rated.
Optimised Air Flow for Cooling & Heating
During the cooling operation, the vane adjusts upwards to direct the air flow towards the ceiling.When heating, the vane directs the warm air downwards to balance the room temperature especially for floor.



Quick Floor Heating
Console air conditioners offer a fast and powerful performance. Using the floor heating mode, console air conditioners provide faster floor heating nd help to reach the desired temperature quickly.
5-Step Vane Control
There are 5 different stages to control air flow direction.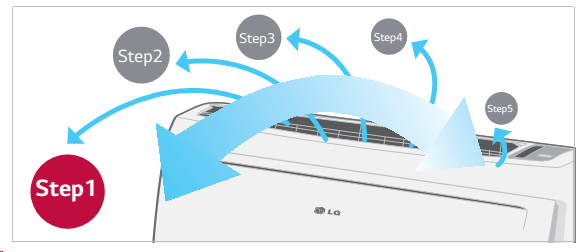 Healthier Air (3 Stage Air Filter System

1st Advanced pre filter : The antibacterial pre-filter primarily reduces large dust particles, mould and quilt dust.

 

2nd Allergy Filter : Filter consists of enzyme that breaks down allergens, apatite and organic/inorganic binders. When the air passes through the filter, allergens cling to the filter, and the filter deactivates the allergens.
3rd Plasma Ion Generator : The sterilised ion generator emits around 1.2 million ions, and traps some of the airborne hazardous substances
Easy Installation and Service
6 different ways to install piping



Techical Info
Mudel
Siseosa
CQ09NA0
CQ12NA0
CQ18NA0
Välisosa
UU09WULD
UU12WULD
UU18WUE2
Jahutusvõimsus
Min./Nom./Max.
kW
1,3/2,6/3,4
1,4/3,5/3,7
2/4,6/5,5
Küttevõimsus
Min./Nom./Max.
kW
1,4/3,1/4,2
1,6/4/4,4
2,2/4,8/6,0
Aastane energiakulu (jahutus)
kWh
172
231
343
SEER (jahutus)
W/W
5,11
5,31
4,71
Aastane energiakulu (küte)
kWh
1032
1105
1396
SCOP (küte)
W/W
3,81
3,81
3,81
Energia klass
Jahutus/Küte
A/A
B/A
Müratase
Siseosa
dB(A)
38/32/27
39/32/27
44/39/35
Välisosa
dB(A)
47
48
Mõõdud (WxHxD)
Siseosa
mm
700x600x210
Välisosa
mm
770x540x245
870x655x320
Kaal (netto)
Siseosa
kg
14
Välisosa
kg
32
46
Torustiku mõõt
Vedel + Gaas
toll
1/4″ – 3/8″
1/4″ – 1/2″
Freoon
R410A
Maksimaalne trassi pikkus
m
15
40
Maksimaalne kõrguste vahe
m
10
30
Lubatud tööpiirid
Küte/Jahutus
°C
-18~18/-10~43
Elektriandmed
Pinge
V/Ph/Hz
220-240/1/50
Kaitsme suurus
A
16
20
Order Enquiry
Contact form description text