General Details
FLOOR STANDING UNIT

Temperature & pressure control of VRF technology ensures faster, more accurate and stable operation of compressor.
LG's Single and Multi Split models, the only solutions in the same product category to feature innovative Temperature & Pressure Control Sensor equipped with advanced VRF pressure control technology.
Generally single and multi split systems estimate pressure to operate compressor via a single sensor, which measures refrigerant, internal and external temperature. However, LG's latest Single and Multi Split series add the Temperature & Pressure Control Sensor, which directly analyzes and controls refrigerant pressure and temperature, boosting compressor performance in terms of accuracy and efficiency. Precisely, the Temperature & Pressure Control Sensor leads to quicker, more effective heating and cooling. It also helps to extend the compressor's operational lifespan and ensure stable performance in all kinds of weather conditions.
Wide operation

Ideal for low denisty server rooms, machine rooms and kitchens.


Stylish Design
The new LG floor standing air conditioner which is Red Dot design award winner 2013, is also ideal for modern interiors in your home or office.

Quick Response

Offering powerful cooling, the commercial air conditioning system can reach a set temperature in a shorter period of time. Meanwhile, the Power Heating function provides the optimal airflow angle, guaranteeing a faster heating performance.
Powerful Cooling & Heating
The new LG floor standing air conditioner is efficient for using in large areas due to its powerful cooling and heating operation. The powerful air speed and volume means the air flow can reach up to 20m away from the air conditioner.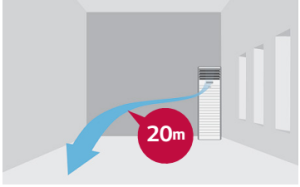 Techical Info
Mudel
Siseosa
UP48NT2
Välisosa
UU48W
UU49W
Jahutusvõimsus
Min./Nom./Max.
kW
6/13,4/15,2
Küttevõimsus
Min./Nom./Max.
kW
6/15,5/17,1
EER (jahutus)
W/W
3,21
COP (küte)
W/W
3,41
Müratase
Siseosa
dB(A)
31/27/23
Välisosa
dB(A)
52
Mõõdud (WxHxD)
Siseosa
mm
590x1840x460
Välisosa
mm
950x1380x330
Kaal (netto)
Siseosa
kg
50
Välisosa
kg
92
96
Torustiku mõõt
Vedel + Gaas
toll
3/8″ – 5/8″
Freoon
R410A
Maksimaalne trassi pikkus
m
75
Maksimaalne kõrguste vahe
m
30
Lubatud tööpiirid
Küte/Jahutus
°C
-18~18/-10~43
Elektriandmed
Pinge
V/Ph/Hz
220-240/1/50
380-415/3/50
Kaitsme suurus
A
40
20
Order Enquiry
Contact form description text